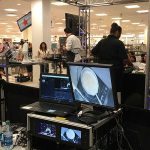 Making sure your booth stands out from the crowd at expositions and conventions can ensure that your company achieves the visibility and makes the contacts you need to succeed in the competitive marketplace. Working with a company that offers convention services in Houston can help you make the greatest impact on those who attend these major events. Here are some key strategies to help your company make the most of your appearance at conventions, expos and trade shows.
Maximize Your Eye Appeal
Integrating Houston audio visual equipment into your booths and displays can provide some much-needed attention. The right digital signage, video material and accessories can create a stand-out look that can attract more visitors to your booth and can help you achieve greater visibility in these venues. Working with a company that specializes in providing Houston audio visual equipment and signage for your booth can help you make the most positive impact on potential clients.
Power Up Your Presentations
One of the most effective strategies for ensuring that potential clients stay at your booth for a longer period of time is to provide charging stations for mobile phones, laptops and tablets at your booth location. This can help you to get your message across while providing a valuable service for attendees at these events. By offering a convenient place for your potential clients to recharge their portable devices, you can also enjoy the benefits of a captive audience for your corporate message.
Put Your Know-How on Display
Sending your most knowledgeable and engaging staff members to provide the human element of your presence at expos, trade shows and conventions can help you to make a positive impact on all those who visit these events. By preparing your staff with the right information, you can ensure that they make the most effective and positive impression on visitors to your booth.
Roll Out the Red Carpet
Your convention services in Houston company can provide you with temporary flooring that can create the right atmosphere for your booth and the surrounding areas. This can reinforce your branding efforts while ensuring the most comfortable surroundings for guests to your booth at these large public gatherings.
The Phoenix Design Group Inc. offers a wide range of services for corporate clients and special events. We can schedule Houston fireworks displays designed to attract attention at wedding receptions, family get-togethers and corporate events. Our team of expert technicians can deliver the most practical and cost-effective options for making your appearance at expos and trade shows something really special. Give us a call today at 281-499-0600 to book an event with our team. We look forward to the opportunity to work with you.